New Jersey Rockers VEXES Premiere Official Lyric Video for "Lift"
New Jersey's hard rock outfit VEXES  premiered the official music video for "Lift." "Lift" is the first single from the band's debut album, Ancient Geometry, which is tentatively scheduled for an early 2018 release.
VEXES was formed from the ashes of A Life Once Lost, Vessl, Fury of Five, and Downstage. Some say imitation is the sincerest form of flattery. That's especially true when passionate artists draw from multiple sources to create striking, original compositions that retain the essence, but not the song structures of their greatest influences. VEXES love music too much to resort to wholesale theft. Yet one listen to their debut album Ancient Geometryconfirms their love for Deftones, Cave In, Thrice, Helmet and even post-metal bands like Isis and Pelican.
Ancient Geometry should appeal to the fans of the bands VEXES love, but also to anyone that enjoys creative, eclectic and surprising hard rock and metal. For VEXES, the best albums aren't the ones that are instantly accessible or easily palatable. They're the ones that require repeat listening to fully absorb the many subtle and not so subtle layers of emotion. But there's one rule the band adhere to: Every song, whether aggressive and chugging, fast and frenetic or slow and melancholy needs a strong, melodic chorus.
VEXES is:
Charlie Berezansky– Vocals/Guitar/Keys
John Klagholz– Guitar/Keys
Bryan Syminiuk– Bass
Justin Graves– Drums
TOUR DATES
10/4: Philadelphia, PA @ Voltage Longue
10/5: Clifton, NJ @ Dingbatz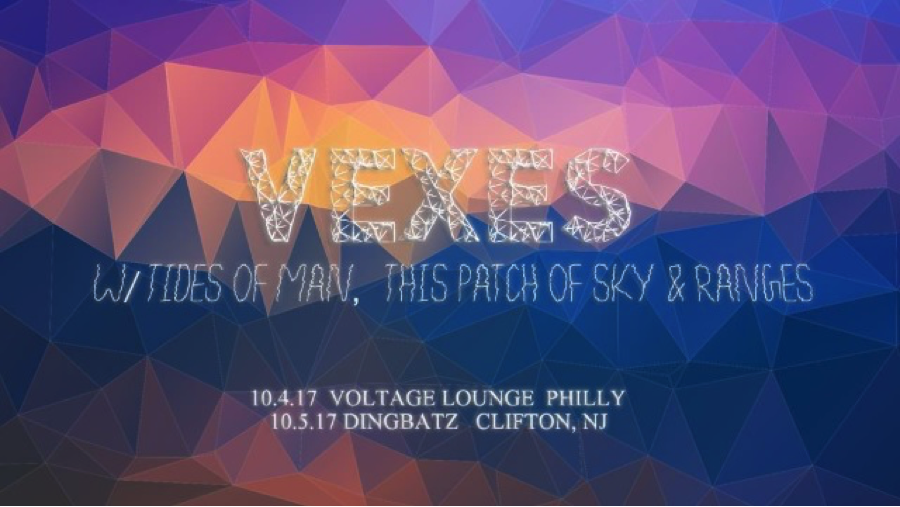 For More Info Visit:
https://www.facebook.com/vexesus/