Crash Diet To Release Live Album "Rest In Sleaze" Featuring Late Singer Dave Lepard
Back in 2005 we made a mess everywhere we went. We were the first sleaze rock act in decades to get signed directly to a major label. In support of our critically acclaimed and charting debut album "Rest in sleaze", we toured every small venue in Sweden. We had a small but growing crowd every night. We were four hungry and naive men in our 20s, out to destroy mostly everything that went our way.
This live album contains one of the few live recordings from this era. Only months later, lead singer Dave Lepard would leave this earth. This is a chance to witness the raw and unpolished energy of a young and furious rock band.
Mixed and mastered by "Rest in Sleaze" producer Chris Laney.
Artwork by Christel Mentges.
Estimated release October / November.
1. Tikket
2. Breakin' the chainz
3. Queen obscene
4. Riot in everyone
5. Angelfuck
6. It's a miracle
7. Out of line
8. Chinese democracy
9. Back on trakk
10 Straight outta hell
The group was signed by Universal in 2004 — making them, by their reckoning, the first sleaze rock act on a major label in over ten years — and released their debut, Rest in Sleaze, the following year. The album hit number 12 on the national charts and spawned the singles "Riot in Everyone," "Breaking the Chainz," "Knokk 'Em Down," and "It's a Miracle," and the band launched an auspicious tour of Sweden to support it in the fall of 2005.
In January 2006, however, the band's lead singer and guiding light, 25-year-old Dave Lepard, committed suicide in his apartment after a bout of depression. His three surviving bandmates decided they couldn't continue the band without Lepard, but given an unexpected outpouring of sympathy and support from fans worldwide, they performed one final tribute gig in February. Several months later, the ex-members of Crashdïet met to discuss future plans, decided to continue on as a new band, and began searching for a new singer.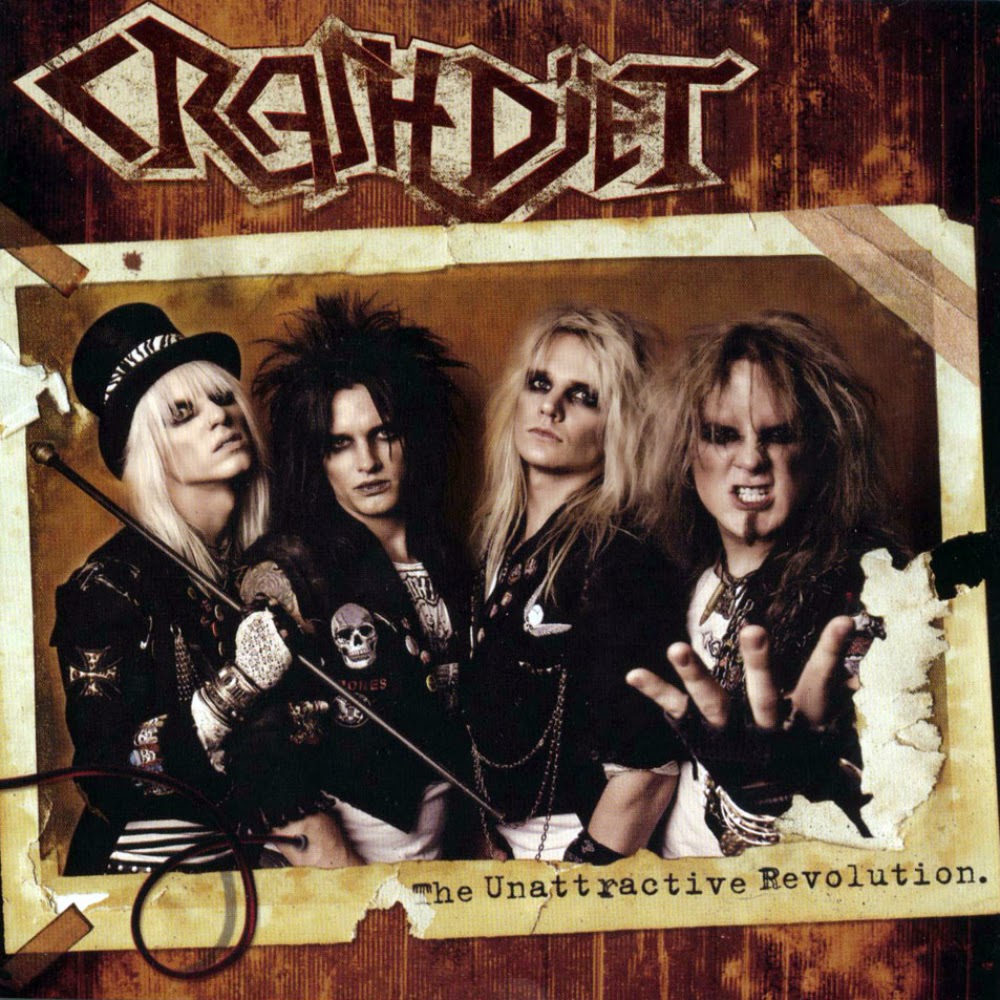 By October, the trio announced they had decided to continue under the name Crashdïet after all, with the approval of Lepard's family, so as to keep his spirit alive and continue to spread the band's message. In January of 2007, a year after Lepard's suicide, Crashdïet debuted with their new singer, H. Olliver Twisted. A sophomore album, The Unattractive Revolution, was released in October, preceded by the single "In the Raw," and reached number 11 on the Swedish albums chart. But their collaberation turned out to be short-lived. Due to his lack of commitment, Olliver was fired in the summer of 2008.
In April of 2010 they released their third album entitled "Generation Wild", an album that pretty much sums up the extraordinary but yet tragic history of a band, determined to never give up their dream. CRASHDÏET has become known as a band with a huge following of diehard fans, and the massive interest for the band never seems to fade.